El sexto informe anual RUFA presenta el bienio 2020-2021 como una única unidad temporal, el tiempo de COVID-19, la narración de un año compuesto por 24 meses y 320 páginas, el informe académico más voluminoso hasta la fecha. The volume, introduced by a sextodecimo with images of projects focusing on the pandemic, consists of seven sections, plus an insert on the RUFA contest in fieri. Las elecciones gráficas, fotográficas e ilustrativas responden al horror vacui generado por la pandemia y recuerdan los artificios, filtros físicos o digitales, que la sociedad ha decidido adoptar como herramientas para frenar el contagio. La variedad y saturación de los tonos cromáticos sirve como una especie de compensación artística: habiendo perdido el calor (humano, relacional, vital), lo devolvemos y compensamos en forma de color.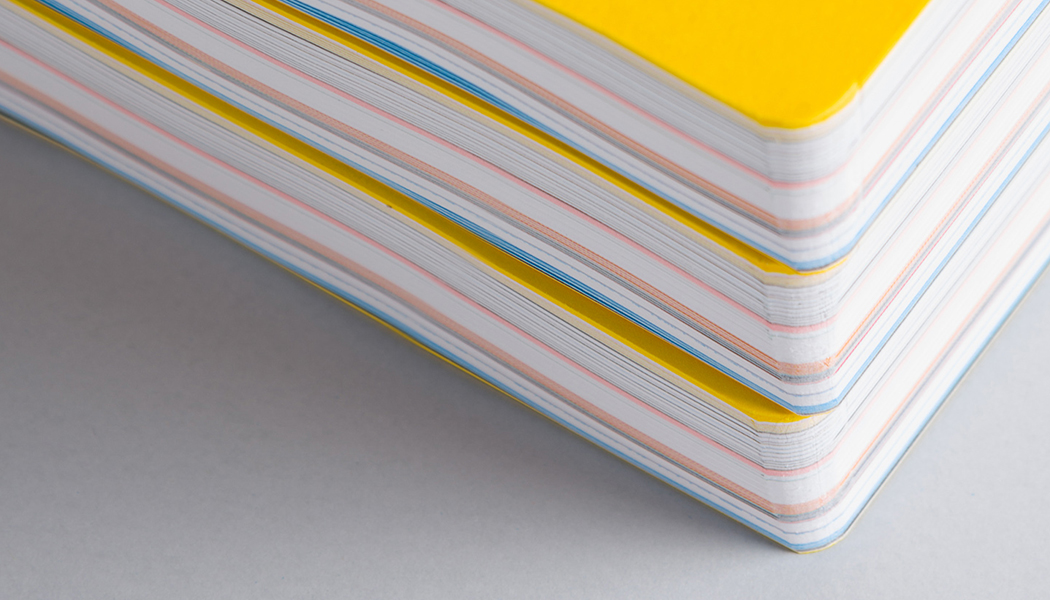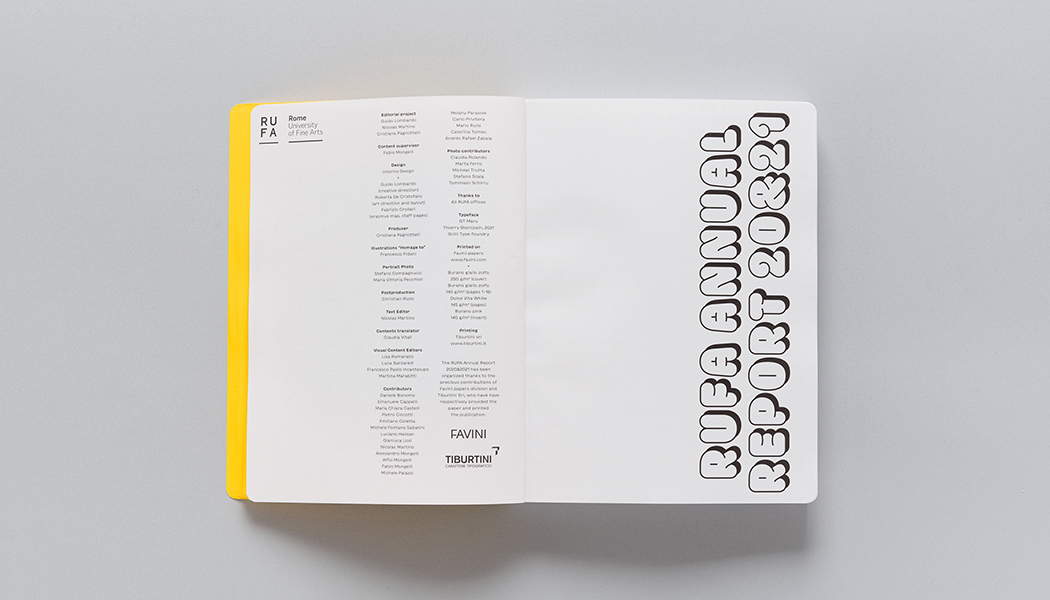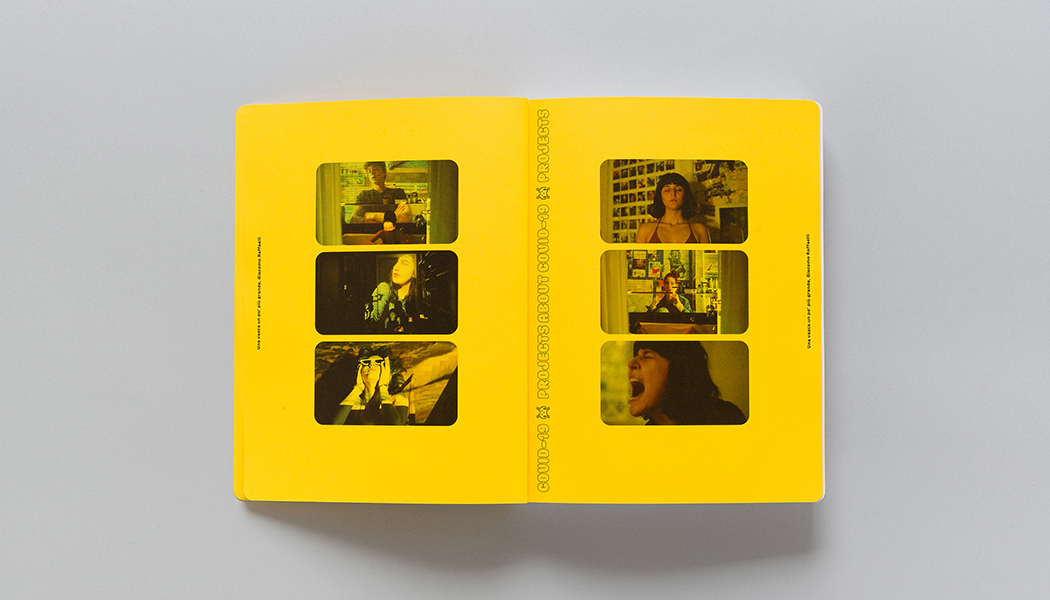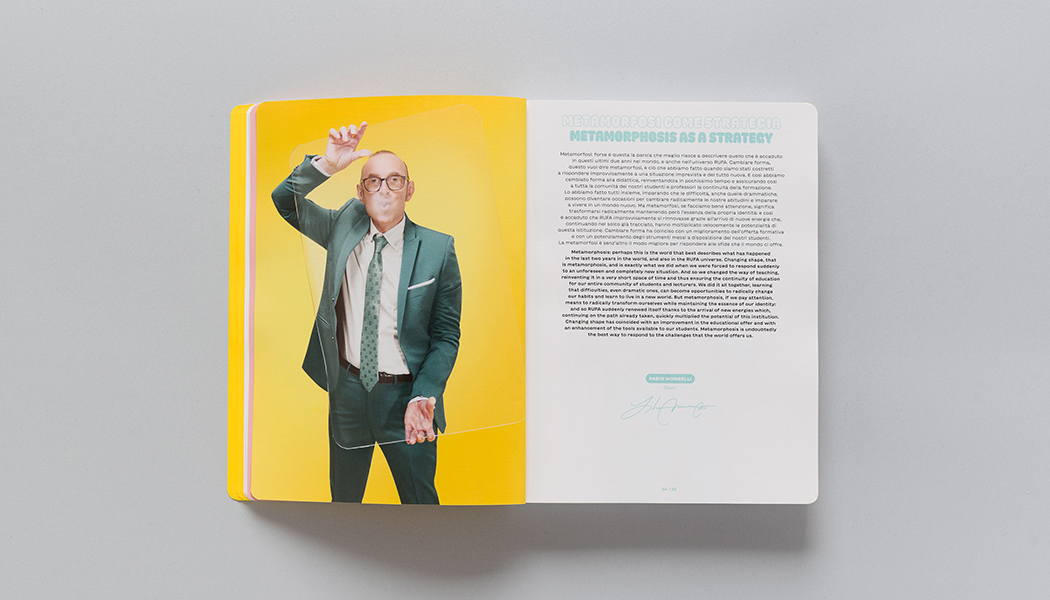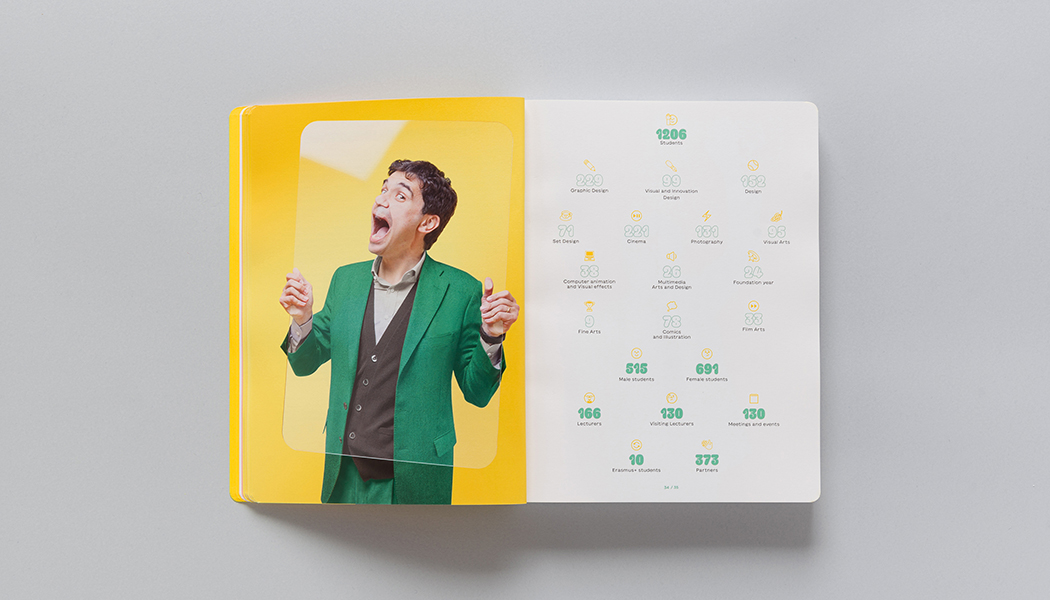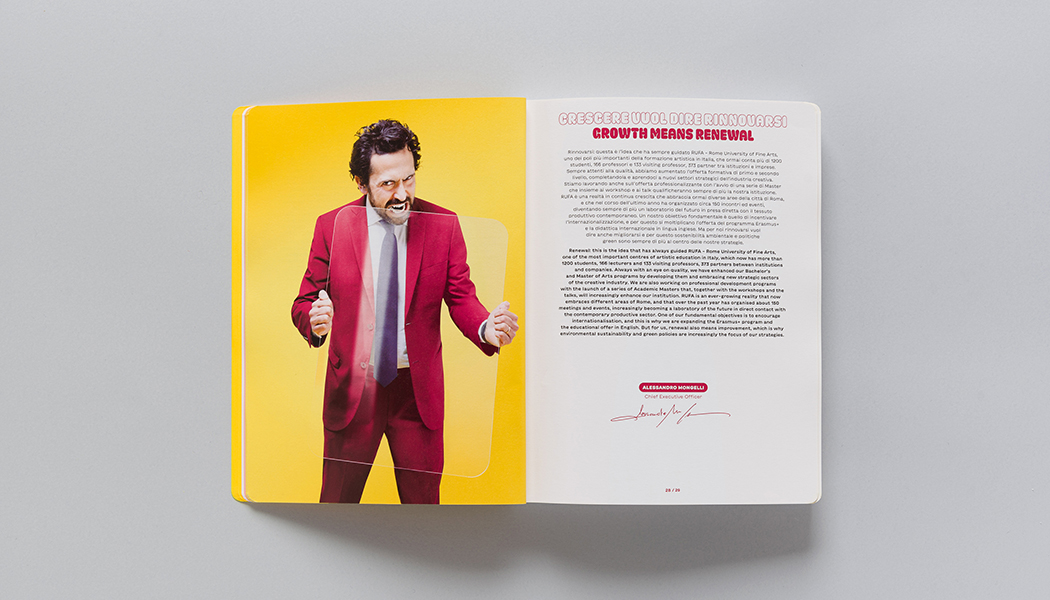 El proyecto fotográfico de las primeras páginas presenta retratos de personas con funciones destacadas dentro de la Academia que interactúan simbólica y lúdicamente con un filtro físico de Plexigas utilizado a menudo en los locales académicos.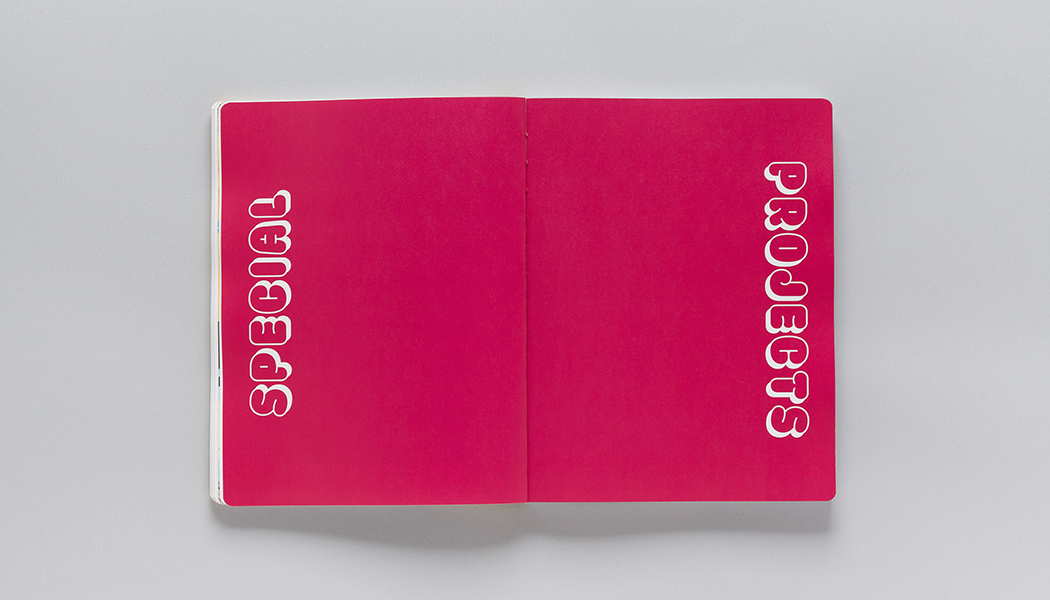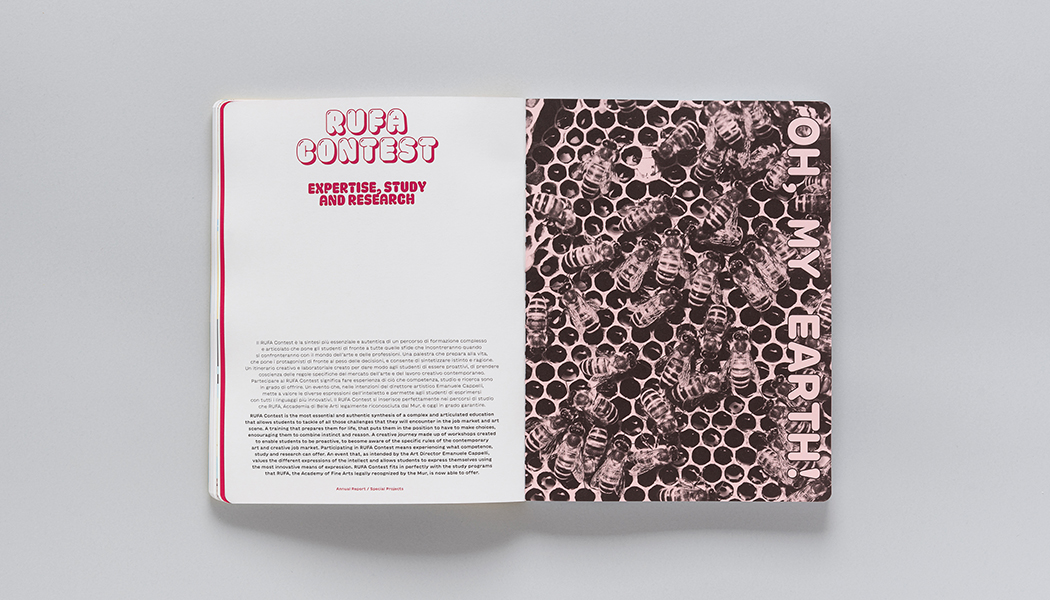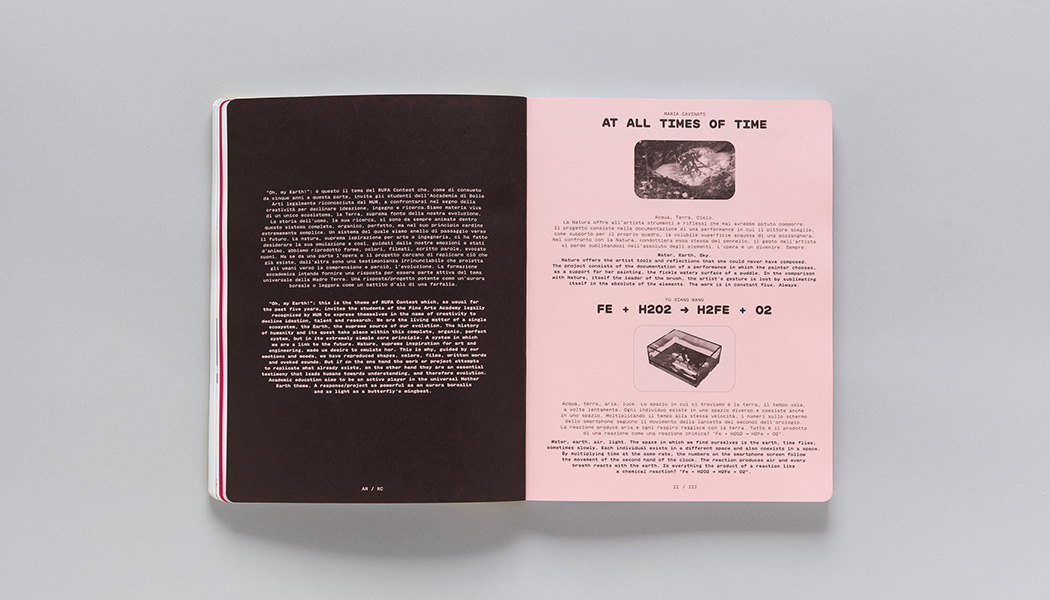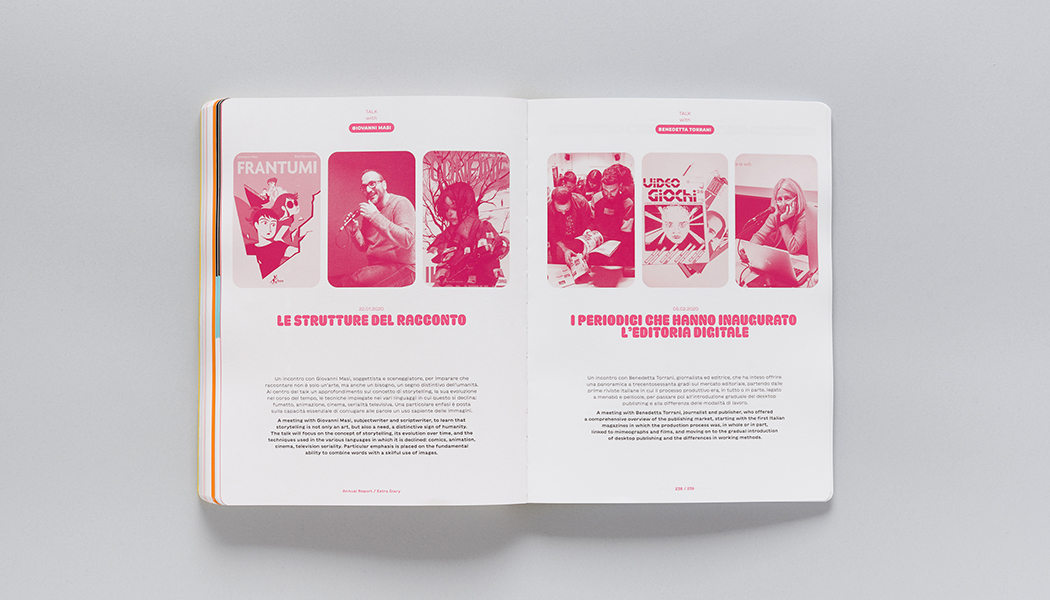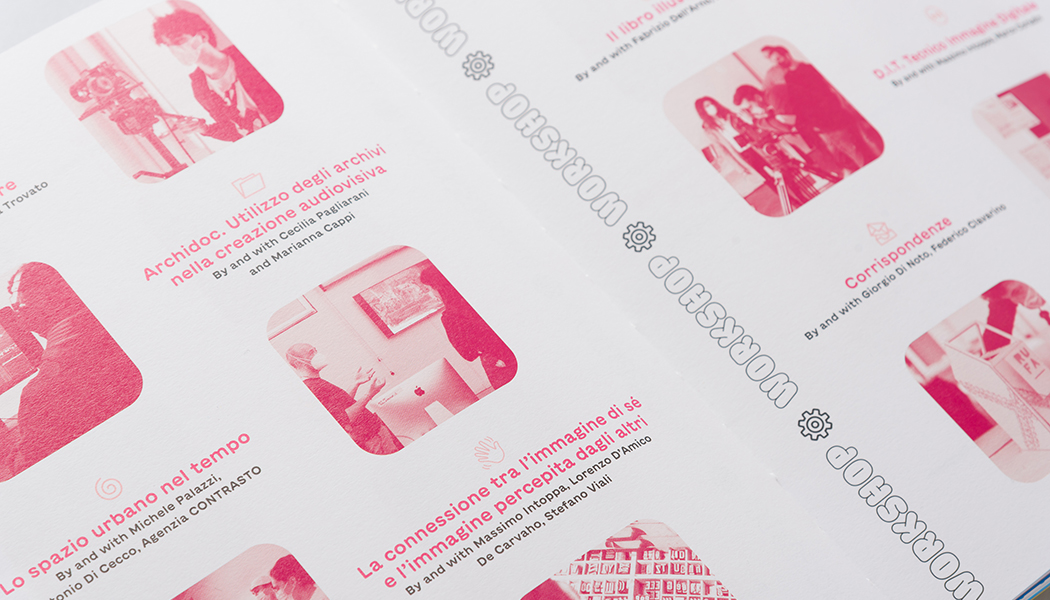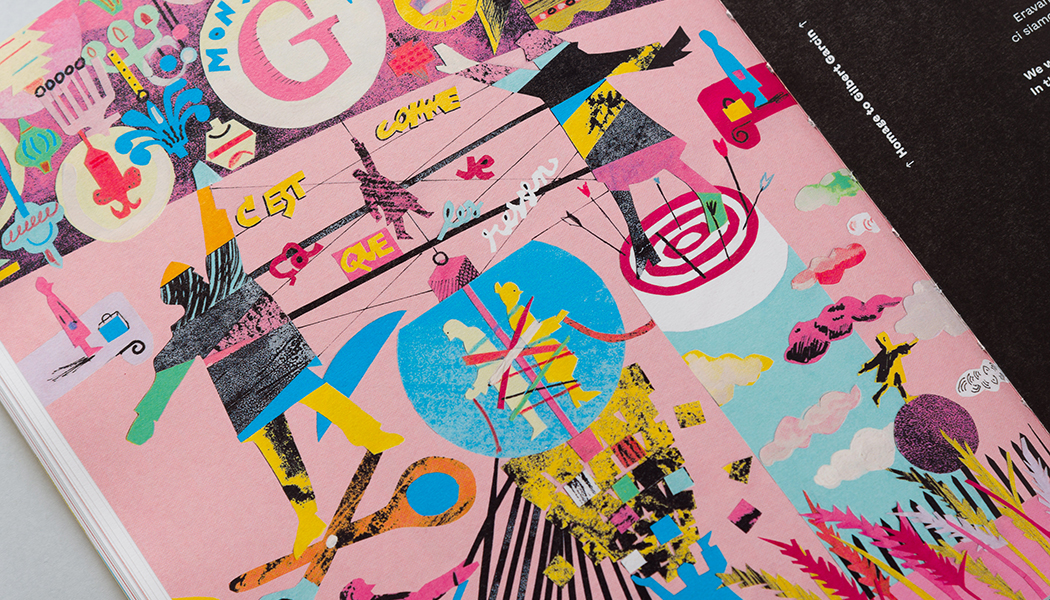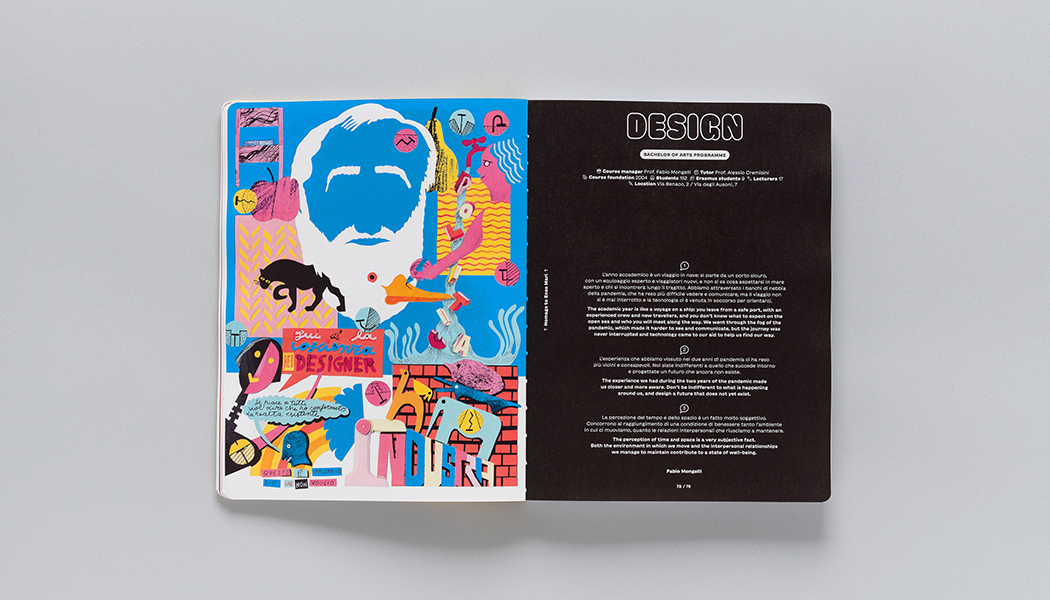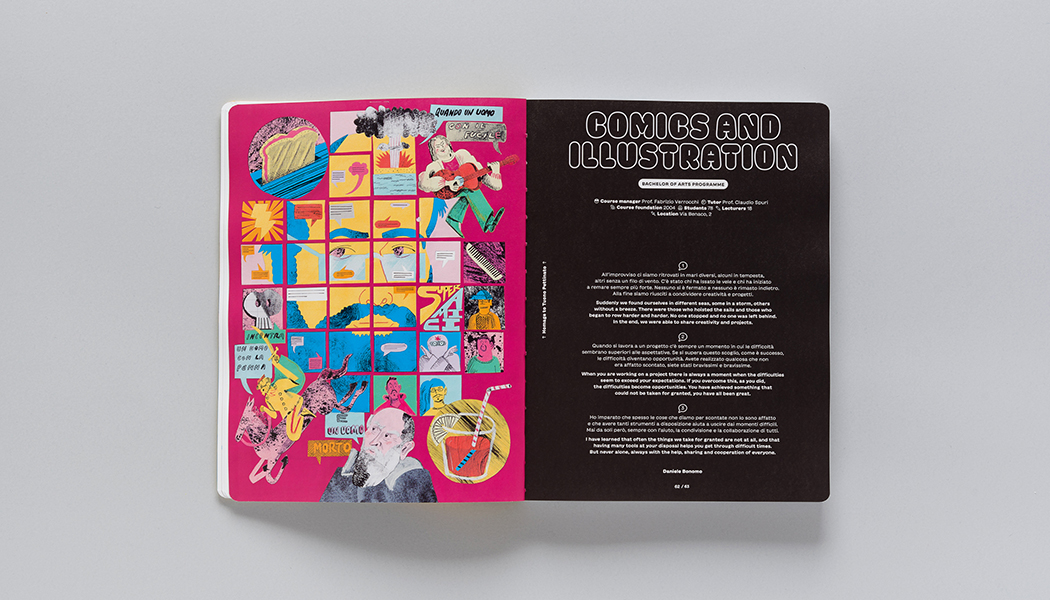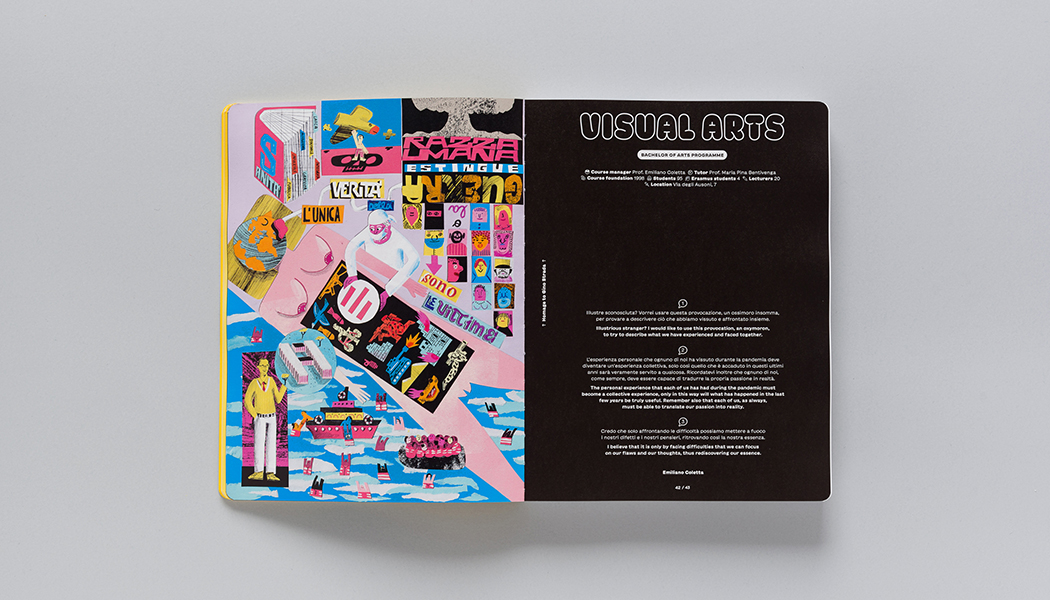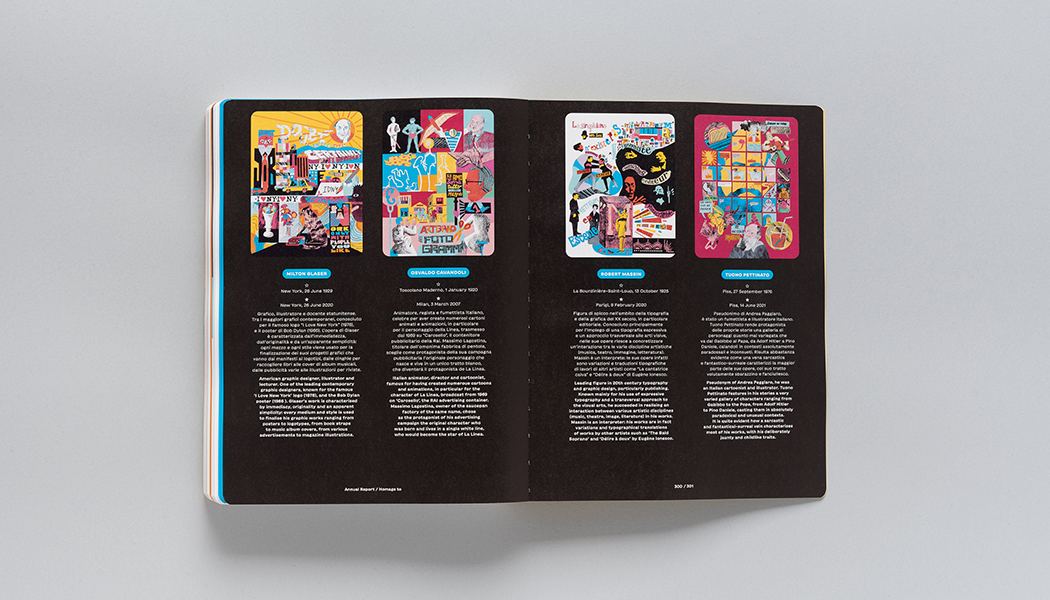 Por otra parte, el proyecto de ilustración que introduce cada curso de estudio rinde homenaje a las grandes personalidades internacionales que han fallecido a lo largo de estos dos años, dejando un gran legado a través de su obra a los estudiantes y creativos de hoy.
La elección del tipo de letra, que incorpora muchos emoji dentro del conjunto estilístico, la composición tipográfica y el diseño remiten directamente a los modos y prácticas de los dispositivos digitales, a los que hemos estado y seguimos estando sobreexpuestos cada día.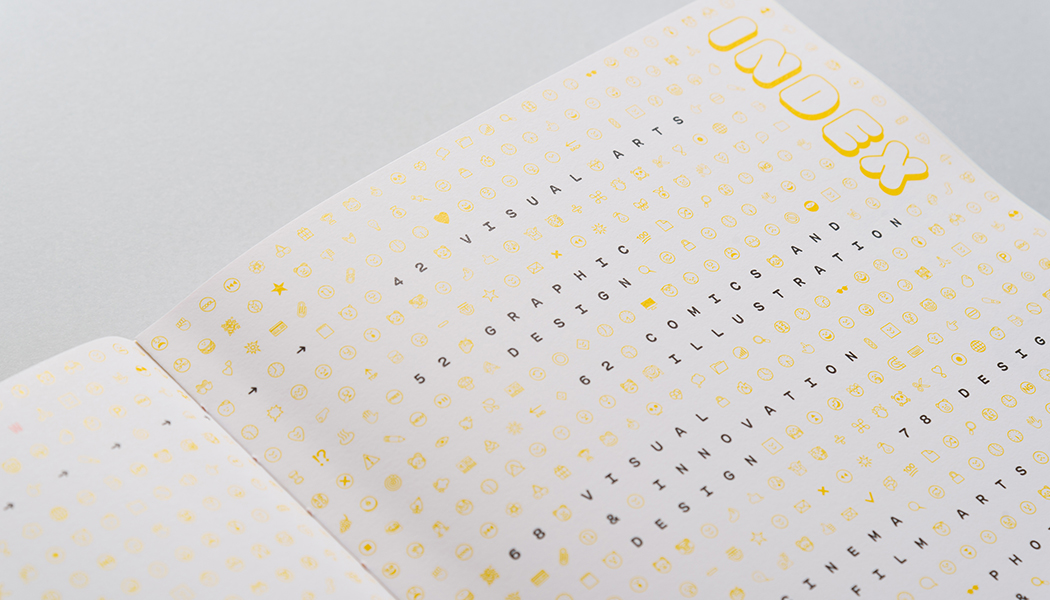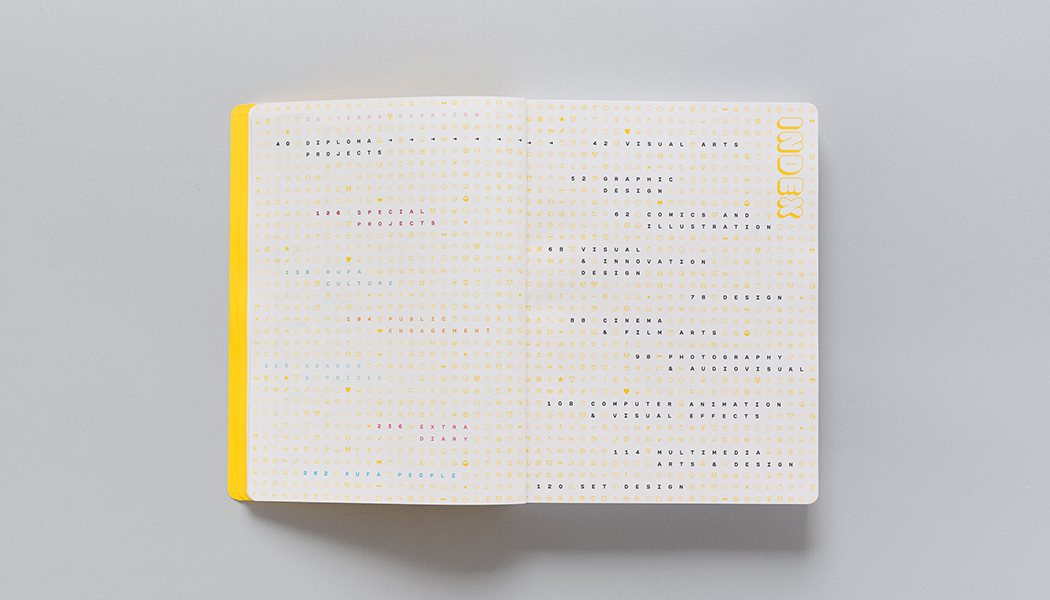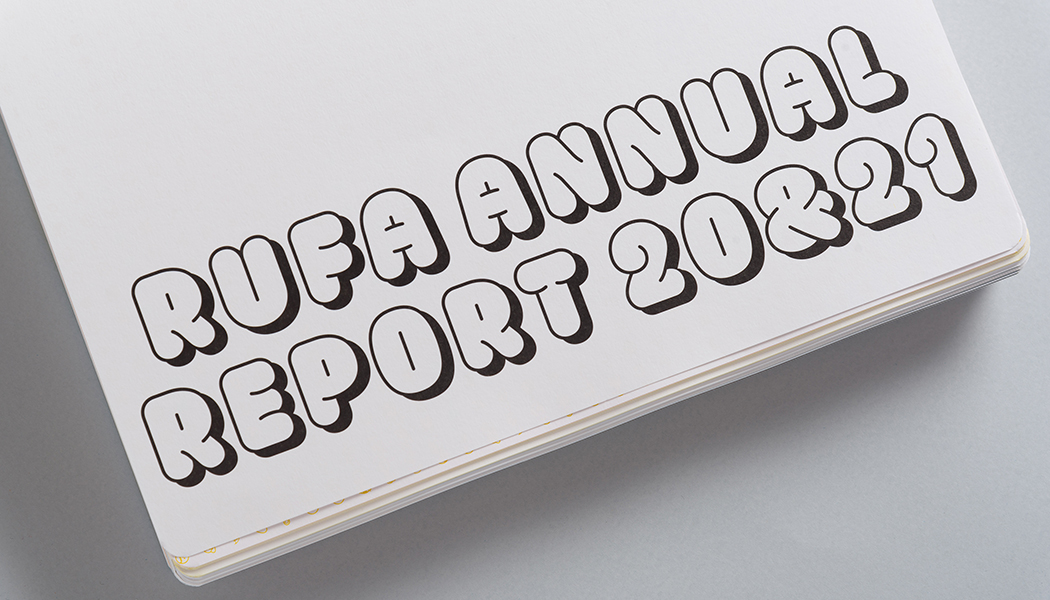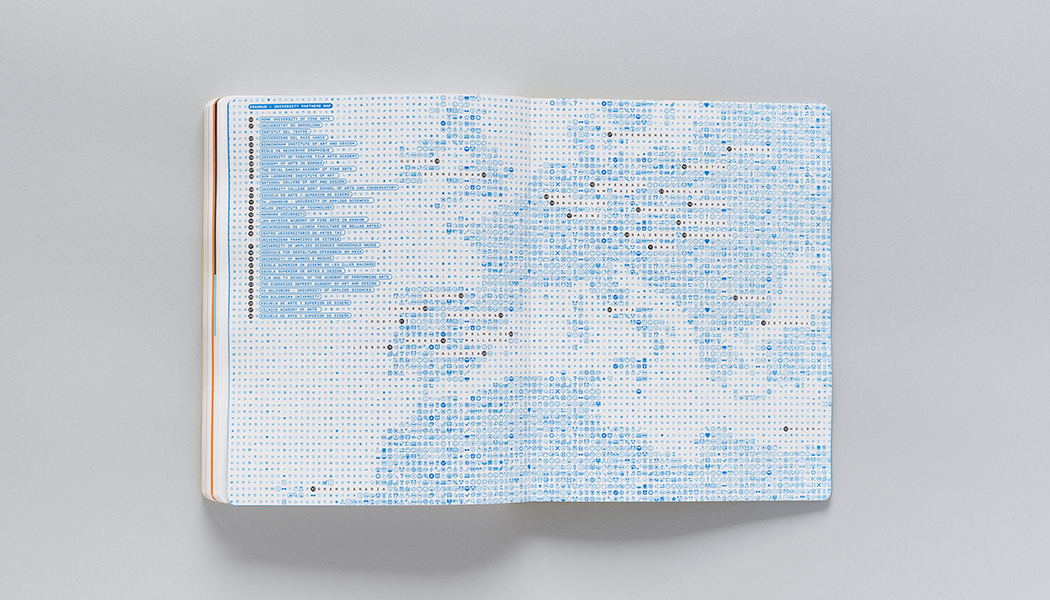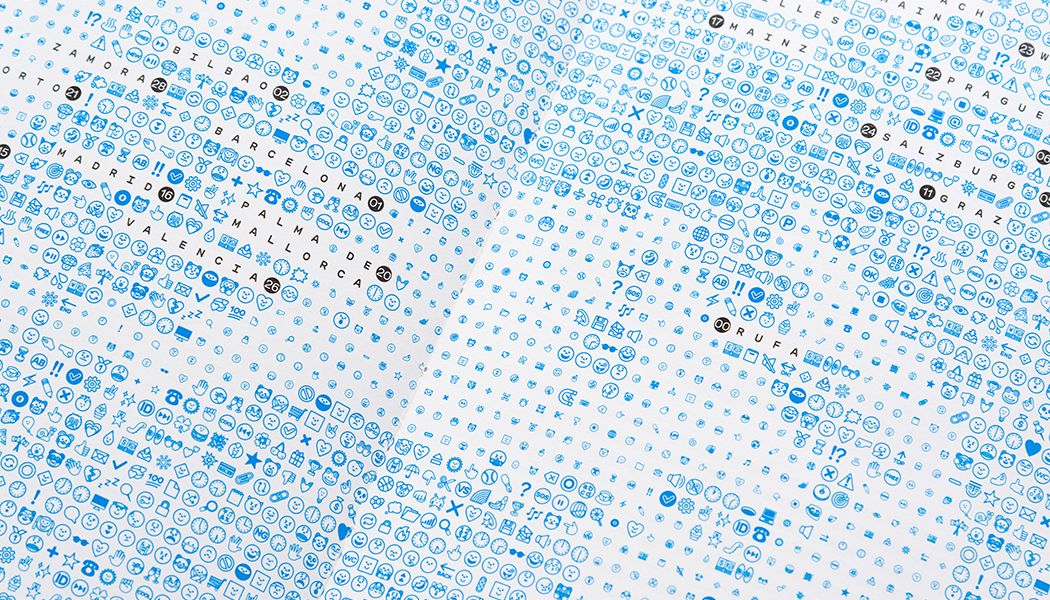 El proyecto fotográfico que presenta al personal de la RUFA también evoca actitudes y momentos de la vida que todos experimentamos durante el periodo de la pandemia, ironizando sobre la colaboración del equipo académico.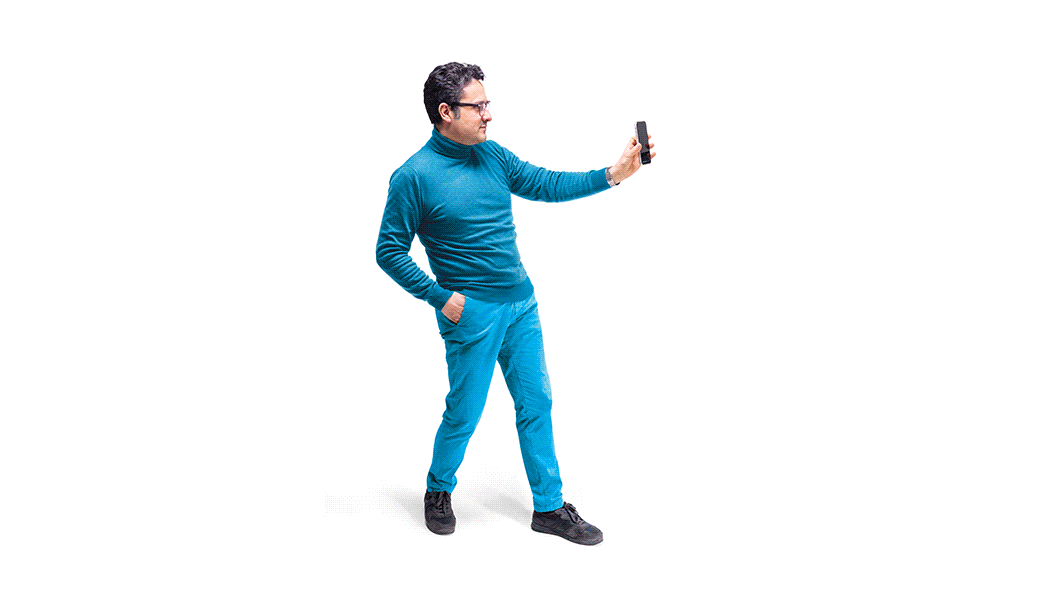 CREDITS
Editorial project
Guido Lombardo
Nicolas Martino
Cristiana Pagnottelli
Content supervisor
Fabio Mongelli
Design
Intorno Design
Guido Lombardo
creative direction
Roberta De Cristofaro
art direction and layout
Fabrizio Crollari
erasmus map, staff pages
Producer
Cristiana Pagnottelli
Illustrations "Homage to"
Francesco Fidani
Portrait Photo
Stefano Compagnucci
Maria Vittoria Pecchioli
Postproduction
Christian Rizzo
Text Editor
Nicolas Martino
Contents translator
Claudia Vitali
Visual Content Editors
Lisa Romanato
Luca Santarelli
Francesco Paolo Incantalupo
Martina Marabitti
Contributors
Daniele Bonomo
Emanuele Cappelli
Maria Chiara Castelli
Pietro Ciccotti
Emiliano Coletta
Michele Fontana Sabatini
Luciano Hassan
Gianluca Losi
Nicolas Martino
Alessandro Mongelli
Alfio Mongelli
Fabio Mongelli
Michele Palazzi
Melany Parasole
Carlo Privitera
Mario Rullo
Caterina Tomeo
Andres Rafael Zabala
Photo contributors
Claudia Rolando
Marta Ferro
Micheal Trutta
Stefano Scala
Tommaso Schirru
Thanks to
All RUFA offices
Typeface
GT Maru
Thierry Blancpain, 2021
Grilli Type foundry
Printed on
Favini papers
Burano giallo zolfo 250 g/m2
Burano giallo zolfo 140 g/m2
Dolce Vita White 145 g/m2
Burano pink 140 g/m2
Printing
Shooting book
Eleonora Cerri Pecorella

The RUFA Annual Report 2020&2021 was realised thanks to the valuable contribution of Favini papers division and Tiburtini Srl, who respectively provided the paper and printed the publication.