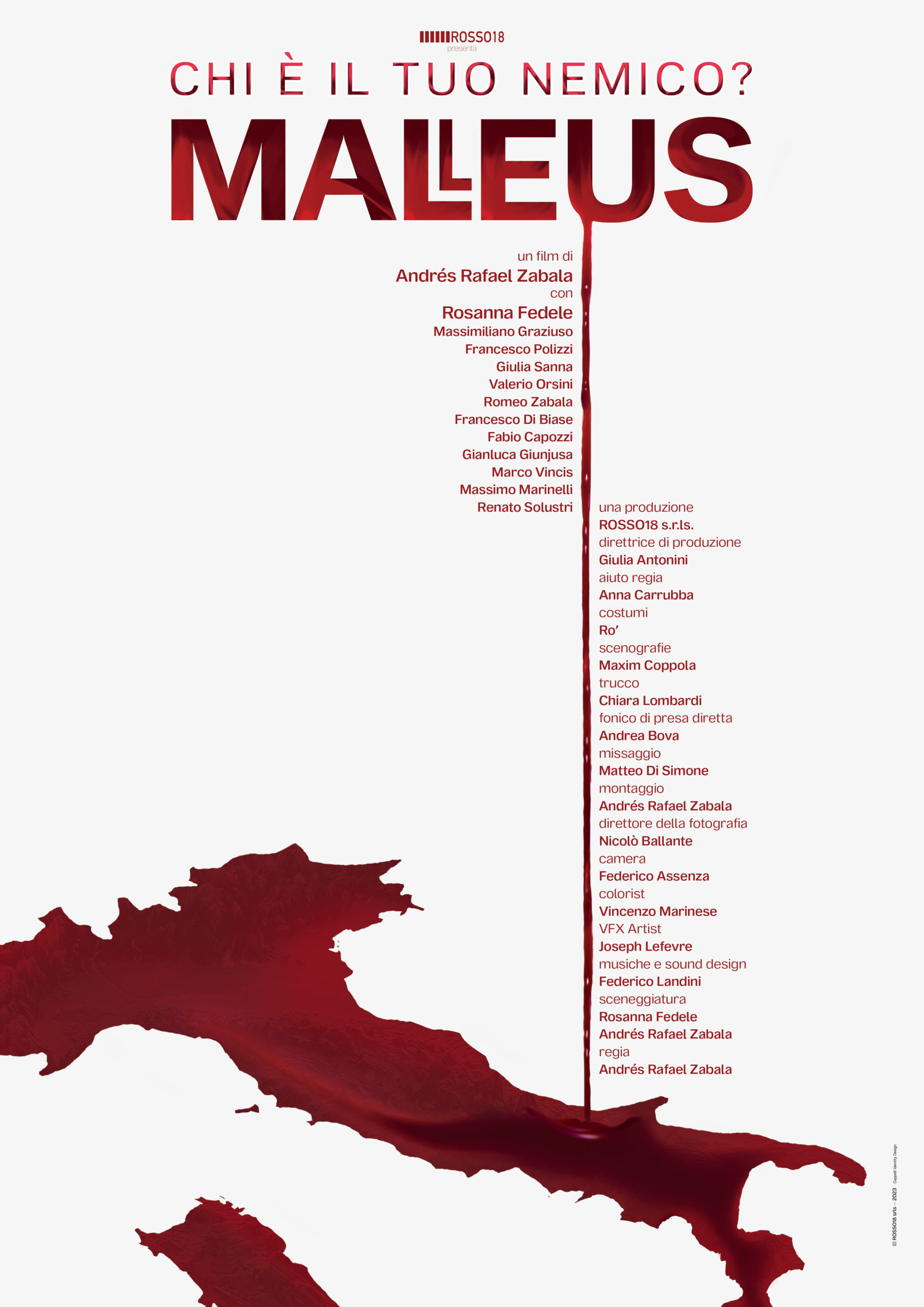 Il trionfo al Festival Internazionale di Salerno
"MALLEUS", second feature film by director and RUFA lecturer Andrés Rafael Zabala, will have its world premiere as a competition film at the 76° Festival Internazionale di Salerno between 28 November and 3 December 2022.
This is a significant and particularly heartfelt participation in an event that is second in longevity only to the Venice Film Festival – the first edition dates back to 1945 – and that has in the past rewarded such sacred monsters of cinema as Alberto Sordi, Massimo Troisi and Lina Wertmueller.
Among the protagonists of the project numerous RUFA and students and graduates in the role of assistants and department heads, and which saw the valuable collaboration of many professionals from the RUFA teaching staff: in the cast the actor Francesco Polizzi, all original music composed by sound designer Federico Landini, while some lecturers from the Cinema Area – Tullio Morganti, Christian Angeli, Franca De Angelis, Andrea Costantini and Massimo Intoppa – offered their advice during the project. The official MALLEUS poster itself is signed Cappelli Identity Design, creative agency headed by Visual and Innovation design coordinator Emanuele Cappelli.
Watch the trailer
SYNOPSIS
Who persecutes Bea?
Who forces her to stay locked in the house for fear of being attacked again?
Who killed her husband?
Bea has seen her tormentor's face, but she cannot remember anything. But does she really want to?
It is a difficult time she is going through: Bea is hounded by tax collectors who, because of the debts her husband bequeathed to her, do not shy away from leaving her with nothing, she who does not even have any money left to pay the rent after losing her job as a cook. 
But Bea is not really alone. The house, which at first sight seems uninhabited, is actually frequented by mysterious presences to which Bea cannot make sense. They are also victims of the same madman who killed her own husband with a hammer, and they want justice. But why her?
And who is the child around her? There are no children among the victims….
Between psychological lucubrations and dystopian realities, will Bea manage to find a glimmer of concreteness to get out of the vortex of her own despair? At what cost? Perhaps only by trusting a police inspector ready to offer her a hand amidst clouded memories, premonitory dreams and primordial intuitions will Bea finally find peace. Perhaps.
PRODUCTION AND TROUPE
Director: Andrés Rafael Zabala
Screenplay: Rosanna Fedele / A.R.Zabala
Production manager: Giulia Antonini
Production assistant: Marianna Bregni
Assistant director: Anna Carrubba
Assistant director: Giulio Tonelli
Assistant director: Sabrina La macchia
Set design: Maxim Coppola
Costumes: Ro'
Photography director: Nicolò Ballante
Camera operator: Federico Assenza
Assistant operator: Alberto Della Porta
Chief electrician: Jacopo Cerroni
Colorist: Vincenzo Marinese – Ttpixel Roma
Live sound engineer: Andrea Bova
Live sound engineer: Maddalena Marchesi
Microphonist: Filippo Angelini
Microphonist: Simeon Stoilov
Editor: A.R.Zabala
VFX artist: Joseph Lefevre
Make-up: Chiara Lombardi
Make-up assistant: Giulia Di Girolamo
Sound effects: Marinelli effetti sonori
Sound effects editing: Anna voltaggio
Rumorist: Giulia Marinelli
Direct socket mounting: Andrea Castiglioni
Mix sound engineer: Matteo di Simone