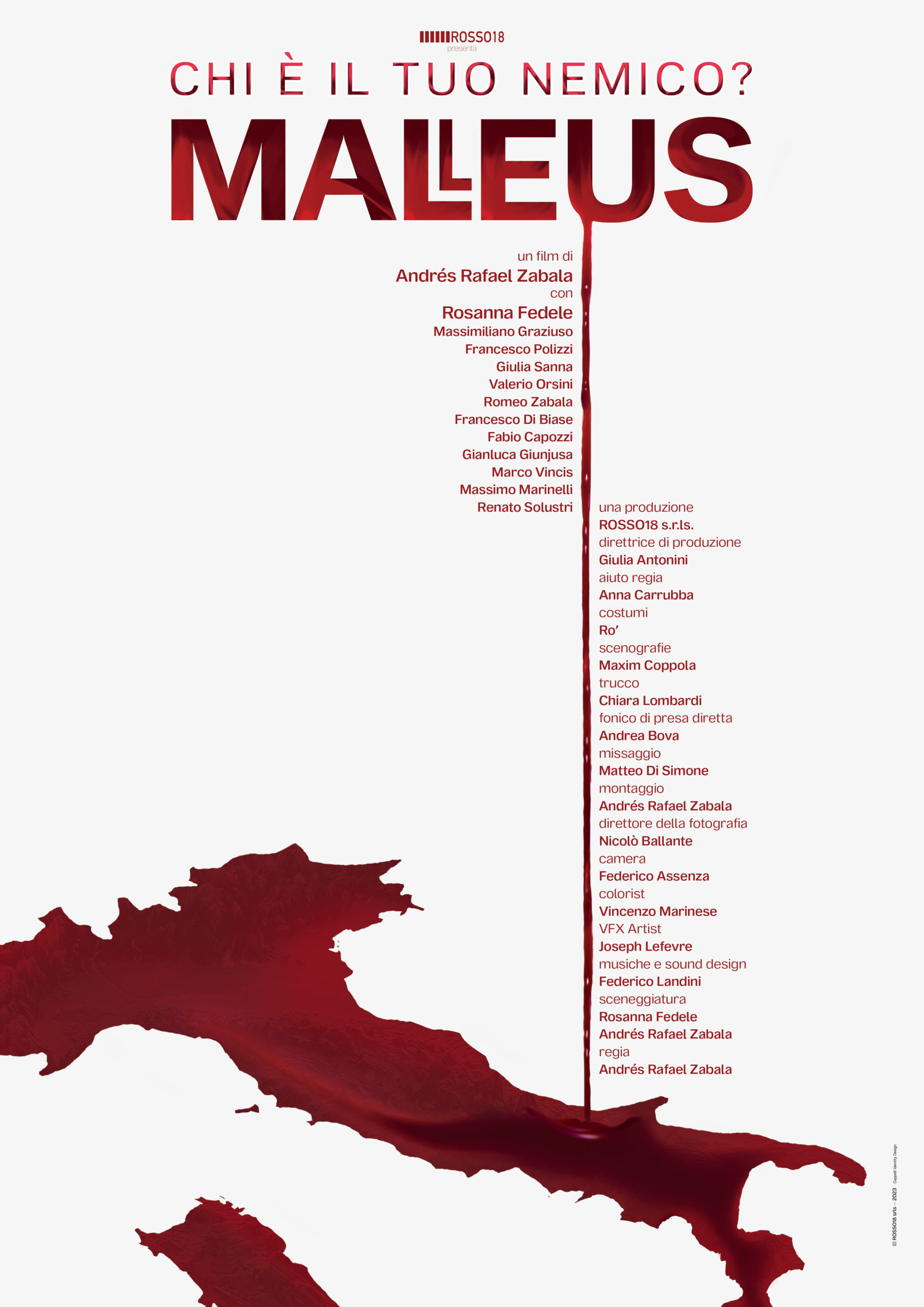 New international recognition for MALLEUS
After its success at the Film Fest International of Edinburgh, "MALLEUS" (2023) – feature film directed by director and RUFA lecturer Andrés Rafael Zabala – is the only Italian film among the eight in competition in the PANORAMA section of the
Festival de Cine Fàntastico de Bilbao, and will be screened at 22:00 on Sunday 7 May.
A few days later, on Thursday 8 June, MALLEUS will also be screened out of competition during the Festival Internacional de Cine de Alicante. Un nuovo riconoscimento a livello internazionale dopo una lunga serie di successi, una gioia che il regista condivide con tutti i membri della troupe, molti dei quali ex studenti e docenti RUFA. Il progetto ha infatti coinvolto numerosi diplomati RUFA nel ruolo di assistenti e capi reparto, con la partecipazione straordinaria di professionisti che appartengono corpo docente dell'Accademia: nel cast l'attore Francesco Polizzi, tutte le musiche originali composte dal sound designer Federico Landini. Tullio Morganti, Christian Angeli, Franca De Angelis, Andrea Costantini e Massimo Intoppa – docenti dell'area Cinema – hanno offerto la propria consulenza nel corso del progetto. La locandina ufficiale di MALLEUS è firmata Cappelli Identity Design, agenzia creativa diretta dal coordinatore di Visual and Innovation design Emanuele Cappelli.
The screening of MALLEUS at the 'Golem Alhóndiga Theatres' in Bilbao will be an opportunity to remember the co-writer and star of the film, Rosanna Fedele (BEA), who passed away last March.

Director Andrés Rafael Zabala's comment: "The film deals with a big problem in Italy: taxes. All the characters involved in the story are in some way victims of the injustice of the tax system. We gave the tax collection agency a fictitious name, "TRIBUTA PAX", a fictitious name, but the problem addressed and all the characters' dialogues are felt to be very real, authentic. I call MALLEUS a 'social horror'. My intention was to combine 'genre cinema' (killers, violence, ghosts) with 'art cinema' (theme of social injustice, slow pace, introspective characters)'.

Production and troupe
Director: Andrés Rafael Zabala
Screenplay: Rosanna Fedele / A.R.Zabala
Production manager: Giulia Antonini
Production assistant: Marianna Bregni
Assistant director: Anna Carrubba
Assistant director: Giulio Tonelli
Assistant director: Sabrina La macchia
Set design: Maxim Coppola
Costumes: Ro'
Photography director: Nicolò Ballante
Camera operator: Federico Assenza
Assistant operator: Alberto Della Porta
Chief electrician: Jacopo Cerroni
Colorist: Vincenzo Marinese – Ttpixel Roma
Production and troupe
Live sound engineer: Andrea Bova
Live sound engineer: Maddalena Marchesi
Microphonist: Filippo Angelini
Microphonist: Simeon Stoilov
Editor: A.R.Zabala
VFX artist: Joseph Lefevre
Make-up: Chiara Lombardi
Make-up assistant: Giulia Di Girolamo
Sound effects: Marinelli effetti sonori
Sound effects editing: Anna voltaggio
Rumorist: Giulia Marinelli
Direct socket mounting: Andrea Castiglioni
Mix sound engineer: Matteo di Simone
Cast
Rosanna Fedele: BEA
Massimiliano Graziuso: FRANCO
Francesco Polizzi: PASQUALE
Giulia Sanna: ADA
Valerio Orsini: PAOLO
Romeo Zabala: MICHELE
Francesco Di Biase: FEDERICO (agente Tributa pax)
Fabio Capozzi: MARIO (agente Tributa pax)
Gianluca Giunjusa: GIULIO
Marco Vincis: ETTORE
Renato Sollustri: VITO
Fabrizio Picconi: Giudice
Vanna Busoni: Mamma di Bea
Gaetano Mosca: FLAVIO
The director
Andrés Rafael Zabala is a director born in Argentina in 1967, who has lived in Italy since 1976, when his family was forced to emigrate due to the military dictatorship. From 1983 to 1992 he lived in Austria, where he completed his high school diploma and started shooting his first short films. Since 1992 he has lived and worked in Rome.
With a degree in Cinema and TV and a diploma as a camera operator, Andrés Rafael Zabala has directed documentaries and reality shows for Canale 5, Rai 2, Studio Universal, Tele+ and Sky. As an advertising director, he has made videos and commercials for major national and international brands and institutions: Italian Red Cross, Finmeccanica Group, Renault, Daimler Chrysler and IFAD (United Nations).
Andrés Rafael Zabala also has 9 short films to his credit that have won awards at national and international festivals. These include 'Underneath' (14 min. – 2006). In 2014 he made the independent feature film "A Dark Rome" (93 min. – ling orig. English): besides being selected in festivals in various countries, it won the "Best Thriller of 2015" award at the Macabre Faire Film Festival in New York.
In 2020, his book 'Disobedient filmmakers – Yesterday's and today's filmmaking beyond the rules' (Efesto Editions – 2020) came out. In parallel, he has been working as a lecturer in Directing and Cinematography for several years. He holds the position of coordinator of the First Level Academic Course in Cinema at RUFA. "MALLEUS" is his second feature film.


Watch the trailer
INFO
Title: "MALLEUS"
Prod. Rosso18 srls – Roma
Genre: Thriller psicologico
Language: Italian
Subtitles: English and Spanish
Duration: 94 min
Screening format: DCP
Audio: 5.1
Contact: Andrés R. Zabala
E-mail: info@farbevideo.com