COURSE
Graphic Design, Comics and Illustration
PROFESSOR
Luigi Iacobelli
STUDENTS
Riccardo Alesiani, Andrea Amorosi, Emma Arduini, Matteo Barbone Sapegno, Edoardo Bardelle, Milena Felici, Marco Gualandi, Fortunata Laurenti, Daniela Lavezzo Cassinelli, Paolo Marchetta, Clara Masuzzo, Giorgio Milanese, Alessia Montedoro, Margherita Muzzi, Maria Rosa Nenna, Giulia Ordetti, Tiziano Pandolfi, Giorgia Pustorino, Giordana Rimedio, Federico Sergio, Christian Serino, Zhaojie Yuan, Giuseppe Accroglianò, Sara Andronico, Claudio Antonangeli, Aurora Baiocchi, Elena Belli, Carlotta Biagioni, Sara Bonini, Raffaello Borrelli, Luca Bruni, Stefano Catino, Eleonora Chicca, Loris Cometa, Sara Corona, Domitilla Davoli, Carla De Gennaro, Edoardo De Maglie, Francesco Dori, Alessio Gennaro, Domiziano Sagnelli, Nicolo Santini Rossi, Flaminia Filigi, Gaia Formigari, Carlotta Franceschi, Giulia Gatta, Marco Genovali, Valeria Gionfra, Virginia Granata, Beatrice Greco, Valentina Guarda, Leonardo Iaia, Isabella Immediato, Francesco Paolo Incantalupo, Fabio La Gattuta, Gianluca Mazzocco, Francesca Mazzù, Letizia Micheli, Gabriele Minotti, Diego Morana, Roberto Muto, Stefano Cattani, Giulia Del Vecchio, Edoardo Nardi, Marco Nicolò, Barbara Notaro, Alice Oieni, Laura Perrucci, Silvia Santopaolo, Lorenzo Numa Sbrolli, Antonella Scardino, Giordana Scipioni, Rachele Sdoga, Sara Stipcevich, Caterina Tahan, Marco Telesca, Valerio Teti, Francesco Tricarico, Martina Villani, Rebecca Zambelli, Alessia Zappitelli, Marco Zini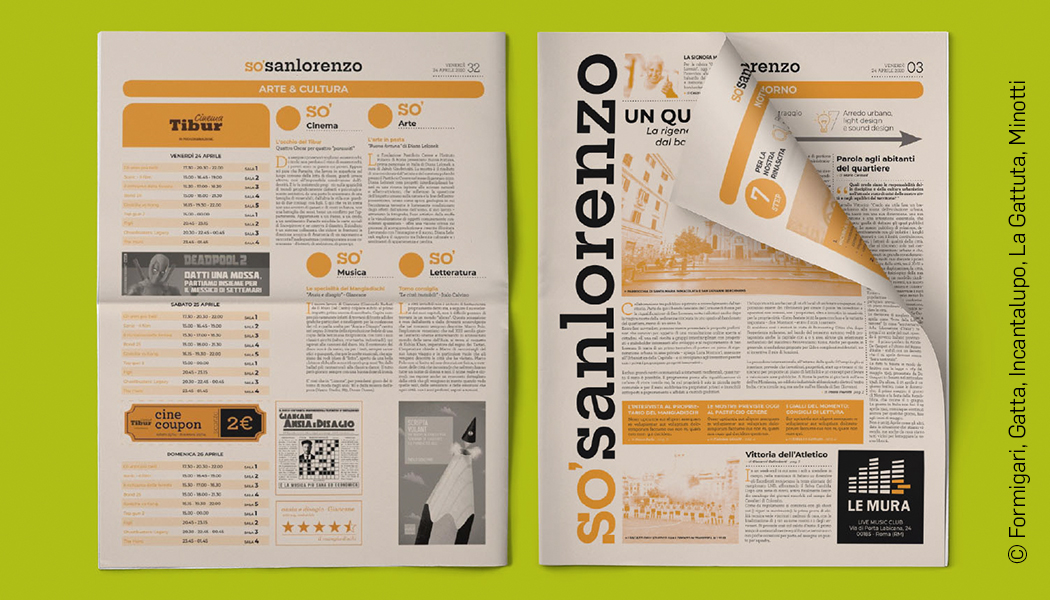 The project
The students of the second year of the Graphic Design, Comics and Illustration course (a.y. 2019/2020) have worked on a project designed to create a newspaper and a magazine dedicated to San Lorenzo district.
This is a selection of the works they produced, realized together with the people of the district, collecting archival material and news directly in the district, through interviews, pictures and stories.
The project aims at an online newspaper as a final product, completely open to the district and with the RUFA students as editorial staff.

PROJECT BY GAIA FORMIGARI, GIULIA GATTA, FRANCESCO PAOLO INCANTALUPO, FABIO LA GATTUTA, GABRIELE MINOTTIPROJECT BY ALESSIO GENNARO, VALENTINA GUARDA, VALERIA GIONFRA, BEATRICE GRECO, VIRGINIA GRANATA, ISABELLA IMMEDIATO, LEONARDO IAIA
PROJECT BY LETIZIA MICHELI E ROBERTO MUTOPROJECT BY VALERIO TETI
PROJECT BY FRANCESCA MAZZù E FLAMINIA FILIGIPROJECT BY Milena Felici, Margherita Muzzi, Maria Rosa Nenna